The Disability Channel "The Neuro Show"
Reshaping Your Life Ignite Your Power From Within
---
October, 2017
Nurture Your Body, Mind and Spirit at our 7-day

 

Wellness Retreat at the Art of Living Retreat Center in Quebec
October 1 to 8, 2017
From the moment you arrive at the spectacular Art of Living Retreat Centre in the beautiful Maurice region of Quebec, you'll feel at peace as the calm and quiet of 250 wooded acres envelop you. Each day, feel pampered with a variety of world-class Ayurvedic spa treatments that eliminate toxins and invigorate your body.
Each day, Join Susan Sommers for fitness and health workshops, based on her book, Love Your Body…Embrace Your Life! Enjoy Ayurveda cooking classes and delicious, locally-grown food from the organic garden. The vegetarian cookery demonstrations introduce ways to balance your diet in an easy, creative and delicious way. Spend time taking leisurely strolls or invigorating hikes, relax or boat at the lake, or just find a private space to read a good book. Discover new breathing, meditation and Yoga techniques and processes to relax and continue your inner journey after you leave. Return home feeling a deep sense of balance, inner peace and vibrant health.
For more information, contact Debbie Ross, Womens Travel Network, 905 771-8338.
---
June, 2017
Enjoy a spectacular trip to the French Riviera and Provence, with Pat Sands and Susan Sommers
June 6 to 18, 2017
Join award-winning fiction writer Pat Sands and fitness author Susan Sommers and experience the exquisite Mediterranean setting of the Côte d'Azur as well as the brilliant Provençal landscape with its mosaic of fields of sunflowers and lavender. Stops include Nice, Grasse, St. Paul de Vence, Eze, Monaco, Antibes, Aix en Provence, Avignon, St. Remy, and Les Baux, Luberon, and Arles. . It will not take long to feel as enchanted and inspired as have writers, artists and travellers for centuries
For more information, contact Debbie Ross, Womens Travel Network, 905 771-8338 or info@womenstravelnetwork.ca
---
Keynote Presentation and Book Signing
Sunday, March 12, 2017 in the morning (contact store for time)
LOLE YORKVILLE, 88 YORKVILLE AVENUE, TORONTO.
For information, contact Lexa at 647 748-9455 or Yorkville@lolewomen.com
---
International Women's Day Celebration and Keynote Presentation
Wednesday, March 8, 2017, 2:00 pm to 3:30 pm
MT. PLEASANT LIBRARY, 599 MT. PLEASANT ROAD, TORONTO.
TOPIC: NOURISH YOUR MIND, BODY, AND SPIRIT
In this motivational Keynote, Susan highlights 10 health and nutrition tools to inspire women to "open your mind, strengthen your body, and lift your spirit". Topics include ways to embrace self-compassion and self-care; build your own supportive community; develop mindful nutrition to nourish and fuel your body; commit to meditation, breathing, and yoga techniques; incorporate fitness and meditation into your own customized Weekly Action Plan; overcome obstacles; recognize and celebrate your achievements; and focus on inner development, endurance, and continuous growth. The Keynote is based on the strategies and tools in Susan's new book, Love Your Body…Embrace Your Life! (Hay House Publishing/Balboa Press, July, 2016).
For more information, contact Ghodsi Danesh, Branch Head, 416 393-7737
---
March, 2017
Keynote and Book Signing Event
Thursday, March 2, 2017, 7:30pm – 9:00pm 
VERITY WOMEN'S CLUB, 111 QUEEN STREET EAST, TORONTO.
TOPIC: MARATHONING WOMAN
Susan Sommers started to jog/walk at 58, when she joined the YMCA Fitness Centre in Toronto. Then, in 2005 and 2007 (at 61 and 63), Susan completed two full Marathons (42 kilometres), walking for 7 1/2 hours in each race. Since 2003, she has completed 31 races, from 5K to 42K.  ln this inspirational Keynote Presentation, Susan tells her story and describes the obstacles and successes she encountered while fulfilling her dreams. She also shares insights from the two health, fitness, and nutrition books she co-authored: Power Source for Women: Proven Fitness Strategies, Tools, and Success Stories for Women 45+ (BPS books, 2010) and Love Your Body…Embrace Your Life! (Hay House Publishing/Balboa Press, 2016).
For more information, contact Susan Sommers, 416 303-4028 or susan@susansommers.ca
---
January, 2017
Book Signing Event
Thursday, January 19, 2017, 11:00 am to 2:00 pm
INDIGOSPIRIT BOOKSTORE, MT. SINAI HOSPITAL, 600 UNIVERSITY AVE, TORONTO.
For more information, contact Kevin Marusic, General Manager, 416 979-9428, kmarusic@indigo.ca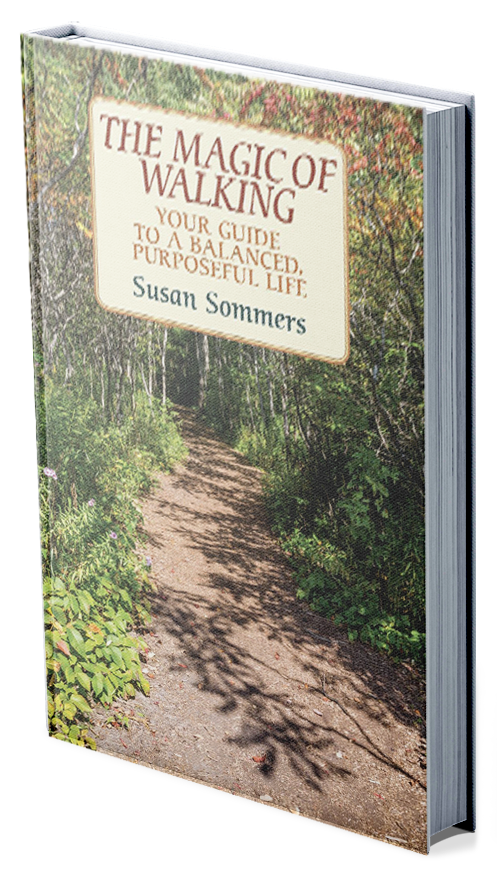 The Magic of Walking: Your Guide to a Balanced, Purposeful Life
This book is part memoir and part walking strategies and tools. Author Susan Sommers takes us on an incredible journey that started in June, 2020, when she decided to virtually walk the 778 kilometre el Camino de Santiago during the COVID-19 pandemic.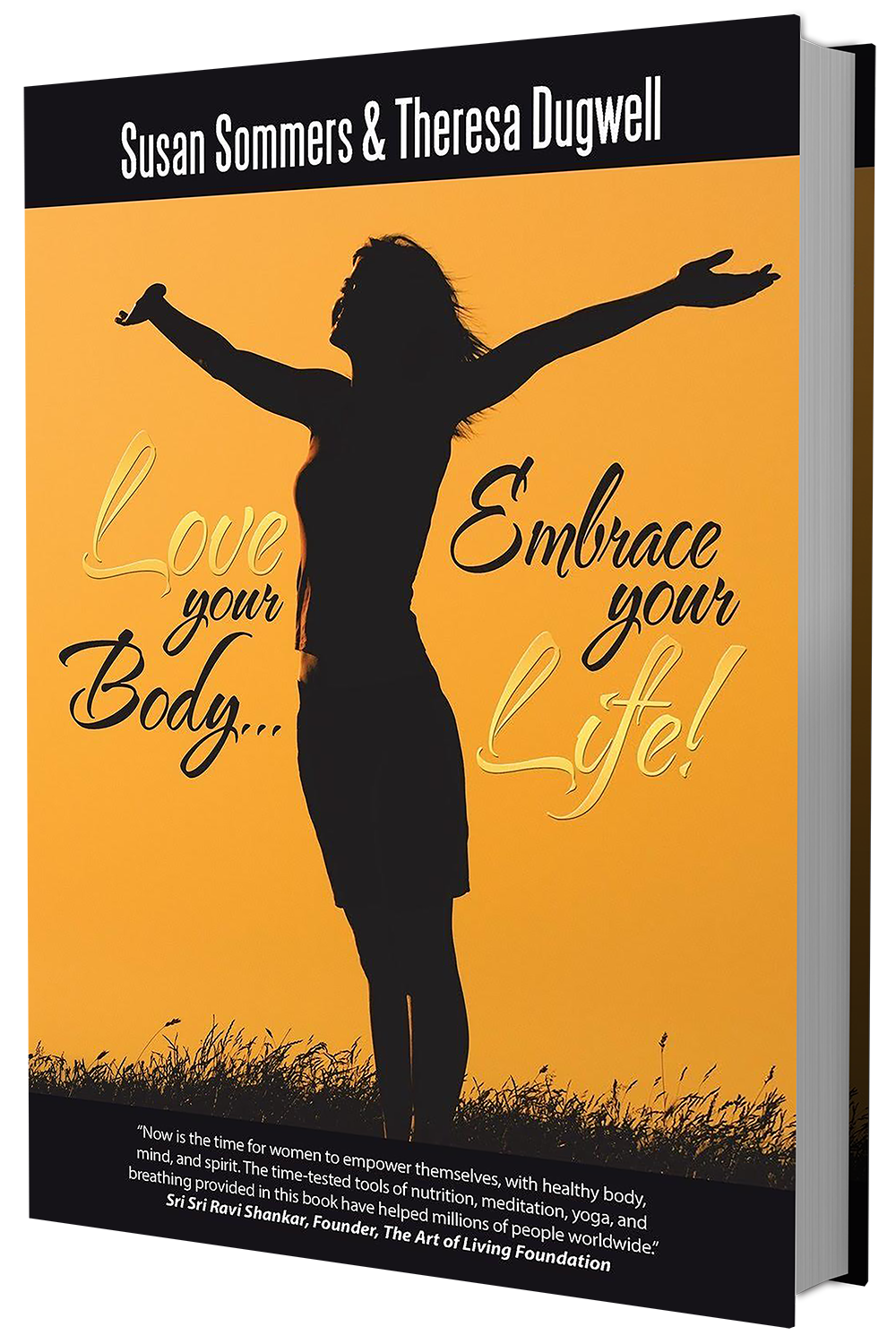 Love Your Body…Embrace Your Life!
Five top experts from The University of Toronto, the Art of Living Foundation, and Ladylean contributed the latest evidence-based research, new self-assessment tools, templates, tips, and exercises for stress reduction, disease prevention, meditation, and self-compassion for women of all ages and stages of life. We also created new questionnaires, action plans, Vision Board and Photography ideas, and Journal suggestions to motivate and inspire women to succeed. We expanded the scope of the book to include women's health and well-being, fitness, mindfulness/spirituality, and nutrition.