Ready to make a life change?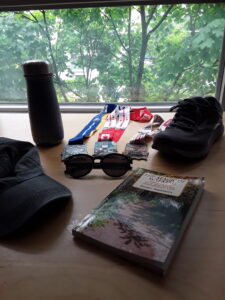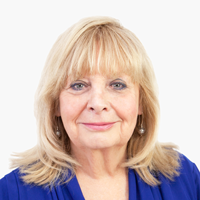 Are you committed to your physical fitness, mental health, and spiritual well-being? Join me and take the next steps to create a long, healthy, enriched life.
Thank you for visiting Power Source for Women. My updated website represents an exciting chapter in my life, as I celebrate the launch of my third book on health fitness, and spirituality, "The Magic of Walking: Your Guide to a Balanced, Purposeful Life." I am committed to empowering women and girls through my website, books, blogs, Keynotes, course, workshops, and retreats.
As an entrepreneur for over 30 years and an eternal optimist , physical and emotional strength are survival tools for me: I have completed 35 walk races since I turned 59, from 5k to 42k. In my writing, speaking, and training, I offer evidence-based strategies and tools and real-life experiences and lessons, along with humour, inspiration, motivation, and interaction.
Join me if you are ready to create a healthier, more powerful, and active life: 
Acquire evidence-based tools to keep your mind, body, and spirit strong as you age and to encourage success.
Design a blueprint to create your own personal path to wellness.
Learn the skills and information to support meaningful and lasting lifestyle changes.
Gain inspiration to reach inside yourself and push beyond what you thought was possible.
Build confidence in your ability to change and grow.
Hear real life stories with proven results that address your life and needs.
Motivate you to shape your life from the inside out and to stay "inner driven".
Encourage you to listen to your body, to gain the information you need for a transformation.
Inspire you to create daily strategies, techniques, and tools.
Customize tools to your unique body and needs.
Tap into your strengths, gifts, and talents.
Build a community.
With over twenty years of experience in the fitness, publishing and racing fields, I want my readers and participants to:
Feel seen, heard, and respected.
Gain an understanding of the physical, mental/emotional, and spiritual aspects of health and well-being.
Adapt my proven strategies and tools to start, sustain, and expand their physical, mental, and emotional walking journey.
I provide my clients and readers with:
Inspiration to reach deep inside yourself and to push beyond what you thought possible.
Real-life lessons and stories.
Confidence in knowing how you can safely make it on your own two feet and enhance your self image.
A blueprint to create your own personal path to wellness.
Strategies and tools.
The perspective of a 76-year-old woman who continues to challenge my body, mind, and spirit as I age.
Through my training programs, special events, books, and website, I work with my clients to:
Gain the motivation they need to change, tap into their passion, do their research, surround themselves with supporters, set achievable goals.

Develop realistic habits and routines.
Create a long-term Action Plan.
Overcome obstacles and stay motivated.
Recognize and celebrate their successes.
Assess the results and imagine the possibilities.
Through my Facebook pages, I share my successes, my nature photos, and my upcoming offerings.
I invite you to join me if you are ready to create a healthier, more powerful and active life.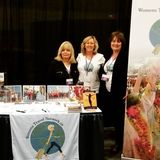 "Spunky, open, and willing to share her experiences to help us to open up and test our own waters." 
Closed Accordian
Have you been walk racing all your life?
I entered my first walk race in the spring of 2002, at the age of 59 and got a Certificate and a pair of socks in the mail, for coming in first in my age group. I was hooked and signed up for 3 more races that summer. Then, at 63 and 65, I completed two full Marathons, walking for 7 ½ hours to cross the finish line. Since 2003, I have completed a total of 35 walk races, from 5k to full Marathons(42k).
.
What got you interested in competing?
My vision for physical and mental fitness emerged from my own long-standing issues with weight, yo-yo dieting and body image and my mother's battle with osteoarthritis and Alzheimer's disease. I realized that I needed to find better ways to care for my body and to keep moving. When I became a Marketing Coach at the Toronto YMCA Business Centre, I received two free memberships to the YMCA Fitness Centre. I started to walk in their runfit classes and to walk around the indoor track before entering my first race at 59.
What was your first speaking engagement?
The North York YMCA was organizing a Speaker Series for women in 2009 and I was the first speaker. I talked about my two Marathons and the challenges I faced in walking the second race: there was no finish line, no medal, and no cheering crowds. Shortly after that talk, Theresa Dugwell and I wrote my first health and fitness book, "Power Source for Women: Proven Strategies, Tools, and Success Stories for Women 45+". Since then, I have delivered inspiring, engaging, and humorous Keynotes, workshops, and courses in Canada and in the United States. I was also featured at an International Women's Day celebration in Jaipur, India in March, 2015.
Why and when did you start teaching?
I approached Ryerson University's Continuing Studies program in 2017 to teach a 7-week course, Walk for Success, for their 50+ program and taught the course at the downtown campus. The course is designed to prepare participants to walk in a 5k race or for fitness. I crossed the finish line of a 5k race with five women from the course who had never entered a race before. The course will be offered online in September, 2021.
Did you grow up in an athletic household?
My father was at the forefront of the home gym movement in the 1940's and 1950's and we had a rowing machine, a chinning bar, and hand weights in our basement. But as a girl growing up in that era, I never used the equipment. However, my father did teach my brother and me how to swim, ice skate, roller skate, bike ride, and bowl – skills that I continue to enjoy.
How do see you see Power Source for Women as being beneficial to women?
I launched my company, Power Source for Women, in 2017 to inspire, educate, coach, and mentor women worldwide to make a lifetime commitment to health, fitness, and spirituality. In my training programs, I enjoy interacting with participants while also providing evidence-based strategies and tools and anecdotes from my journey. During COVID-19, my focus changed from walking for physical fitness to walking for mental and spiritual strength and I share my strategies, stories and photos in my new book, "The Magic of Walking: Your Guide to A Balanced, Purposeful Life."  In 2021, I also organized my first Power Source for Women team to participate in the Women's College Hospital Foundation's Run for Women in July, 2021, to raise funds for the hospital's mental health programs for women.
Was your family supportive when you started walking at 59 years old?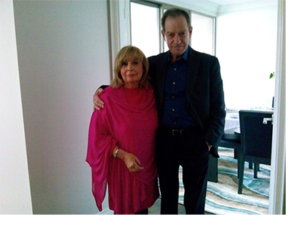 When Susan Sommers (Geyer) and Peter Geyer, her husband, joined the North York YMCA in 2002, she was 57 and he was 54. Since then, they have trained for, and completed, a total of 11 Marathons and over 40 races. Peter has also entered two Boston Marathons. While Peter is a runner with speed, Susan is a walker/jogger with endurance. Although their styles, goals and results differ, Susan and Peter support each other and make fitness and integral part of their lives and marriage. As a husband and wife team, they inspire audiences of all ages in their entertaining and engaging presentations.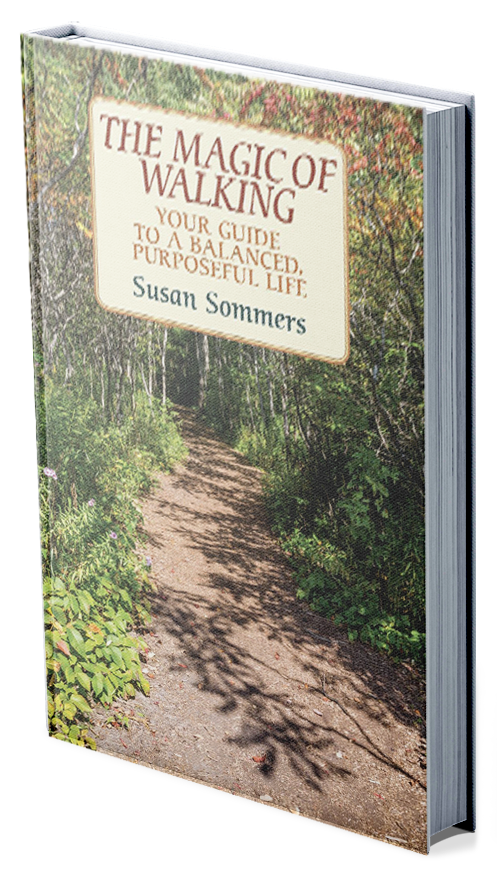 The Magic of Walking: Your Guide to a Balanced, Purposeful Life
This book is part memoir and part walking strategies and tools. Author Susan Sommers takes us on an incredible journey that started in June, 2020, when she decided to virtually walk the 778 kilometre el Camino de Santiago during the COVID-19 pandemic.
My book is now for sale online through Amazon internationally.