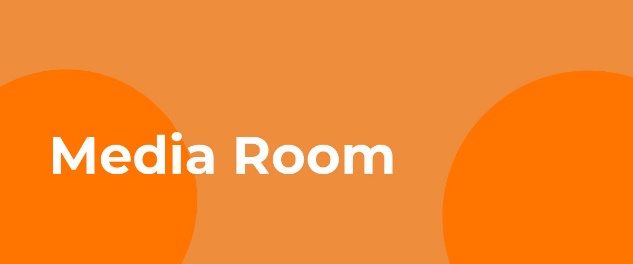 Join Linda Thompson, Host of The Authors Show  and Susan Sommers in this inspiring, engaging podcast interview. Susan shares her passion for walking, her walking journey, her walk races (including two 7 ½ hour Marathons), and the inspiration for her new book and audiobook, The Magic of Walking: Your Guide to a Balanced, Purposeful Life.
SUSAN SOMMERS IS FEATURED SPEAKER AT EXCITING ATHLETA STORE EVENT IN YORKDALE, TORONTO ON MARCH 25, 2022 
Author and walking expert Susan Sommers, Athleta, and Arbonne collaborated to offer an exciting in-store book launch and Keynote presentation for her latest book, The Magic of Walking: Your Guide to a Balanced, Purposeful Life at the beautiful new Athleta store for women and girls in the Yorkdale mall. Susan spoke about her own walking journey; provided tips for a healthy mindset for physical, mental ,and spiritual health; and highlighted post-COVID-19 travel and walking trends. Personal trainer Joanne Fontana led the guests on a mall walk using some of the practices from the new book.
The following is an official OnlineBookClub.org review of "The Magic of Walking: Your Guide to a Balanced, Purposeful Life" by Susan Sommers.
Michelle Fred 19 September, 2021
---
4 out of 4 stars
---
She achieves this by debunking common walking myths and providing research-based techniques, tools, strategies, and information to help her readers better their physical and mental health through walking. Furthermore, she outlines the various types of walking and their immense benefits . Her teaching is designed to accommodate walking in any weather, time, place and at any stage in life.
The author structured the book into parts. The last part features questionnaires, exercises, and steps on creating a personal fitness action plan with self-assessment tools and a physical activity contract for accountability. It's like a blueprint for getting the most value out of the previous parts. In addition, the author recommends keeping a fitness journal to track one's progress and mood.
I admire Susan's love and commitment to an active and healthy lifestyle. Her passion and desire to help others improve their physical, spiritual, and mental health through walking shines through the book's pages. Her enthusiasm and energy are infectious. She is so inspiring; I can't believe she completed a full 42km walking marathon at sixty-three. It's no wonder her work has earned her international recognition and an award for her contribution to the community.
I learned a lot from the book, but I have a quibble about its structure. Though it's a minor issue, I noticed forward-pointing arrows with page numbers at the end of some chapters and subtopics. I suppose they convey further information on said topics, but I found them distracting. A sentence stating that more would be discussed on said topics later would have sufficed. Constantly meandering from one page to another to read additional information affect s reading flow and comprehension.
Despite my complaint, I rate the book 4 out of 4 stars. The author did an excellent job. The personal pictures and stories she shared are beautiful and encouraging. She gave enough information to help her readers make informed walking decisions . Also, I spotted no errors in her work.
I would recommend it to everyone interested in walking or an easy and enjoyable way to stay active. Both amateurs and seasoned walkers would learn a tip or two from the book to improve the quality of their walking and better enjoy their walking time.
Book Review: The Magic of Walking
Your Guide to a Balanced, purposeful life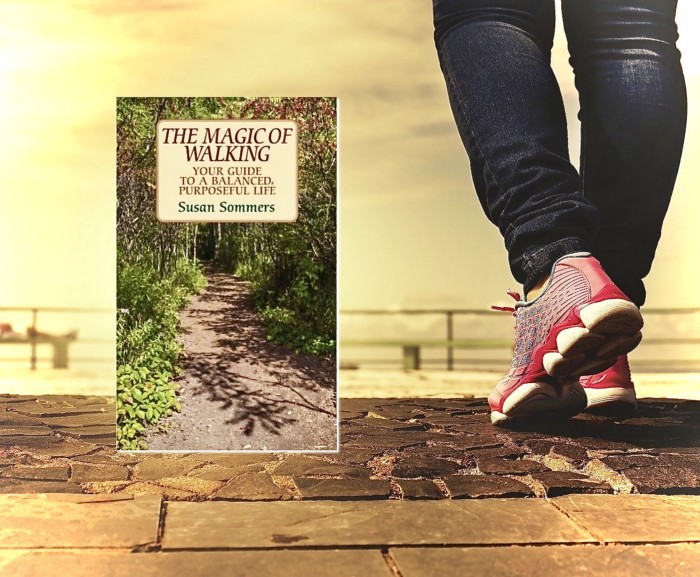 Instructive, inspiring, and so doable!
Title: The Magic of Walking—Your Guide to a Balanced, Purposeful Life
Author: Susan Sommers
Length: 178 Pages (Print)
My new book, The Magic of Walking: Your Guide to a Balanced, Purposeful Life, is part memoir of my life-long walking journey and part evidence-based tools and strategies for walking for physical, mental, and spiritual health for all ages and stages of life. To deal with the stress and anxiety of COVID-19, I registered to walk the 778 kilometre el Camino de Santiago, virtually, in June, 2020. I walked 15,000 steps a day in downtown Toronto for four months -through neighbourhoods, ravines, trails, and waterfront — and received my gorgeous medal one month before my 76th birthday.
The Magic of Walking: Your Guide to a Balanced, Purposeful Life was written after I completed the virtual el Camino de Santiago and includes my memoir and photographs of my walking journey, from overweight, unathletic child to walking two, 7 ½ hour Marathons and 33 other races after the age of 60. It includes 30 ""steps"" to walking for physical activity; mental clarity and emotional strength; and spiritual strength and to connect with nature. The book also provides evidence-based tools from the University of Toronto, Department of Kinesiology and Physical Education and the Art of Living Foundation; real-life lessons and stories to keep your mind, body, and spirit strong; and journaling, photography, and Vision Board ideas. I am the co-author of two other successful books on health and fitness: Power Source for Women: Proven Fitness Strategies, Tools, and Success Stories for Women 45+ (2010) and Love Your Body…Embrace Your Life! (2016). (Source)
Review
Balance and Purpose are two things that I have never associated with walking. But after reading Susan Sommer's book, I'm in the process of rethinking that point.
As a guide, this book is exceptionally structured. You could, of course, read it from front to back, but it lends itself to a person like me who picks areas that interest them to read first. A comprehensive table of contents makes that super easy.
The author also uses linking arrows throughout the book that point readers to additional information that is like a workbook section. These references make it easy to find lists of practical resources, steps, and exercises to accomplish specific tasks or goals.
I appreciated the part about writing a journal to track goals, achievements, etc. That resonated with me because I like to create junk journals and that would make a perfect walking journal.
Another one of my favorite sections is the one on Myths about walking. There are five of them and I laughed when I read them because I've heard them all.
I think the best part of this book is the assessment tools and strategies that the author covers. So many times, guide books tell us how to prepare and what to do, but fail to show us how to assess our efforts. Author Susan Sommers doesn't make this mistake.
Besides the tools, she includes quizzes and exercises. One interesting area included in this section is one concerning 'Self Talk'. We're all familiar with our own mental notations where we negatively outline our limitations, mistakes, and lack of motivation. However, Susan Sommers shows us how to turn this natural trait into a positive force, switching our 'Self Talk' from the negative to the positive.
The Author
You might be wondering if the author practices what she writes about. Here is a small snippet from her bio that will answer that question.
Susan Sommers is an award-winning health and fitness expert and author with a compelling story. She has completed two 7 1/2 hour Marathons and 35 walk races since the age of 59. In June, 2020, Susan registered for the 778 kilometer Camino de Santiago trail, virtually, and walking 15,000 steps a day, received her medal in October, 2020. (Source)
Courage in Action Podcast: Episode 39
Dr. Claudia Machiela, The Wellness Prescription with Dr. Claudia, 105.9 The Region
Quick Links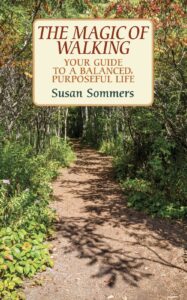 Download Image
997 by 1598 pixels
453 KB
The Magic of Walking
YOUR GUIDE TO A BALANCED, PURPOSEFUL LIFE
Susan Sommers got serious about fitness in her late fifties and went on to complete two marathons and ten half-marathons. She is an author and expert in marketing who has spoken at universities and conferences, Lululemon Athletica and Running Room retail outlets, and fitness retreats.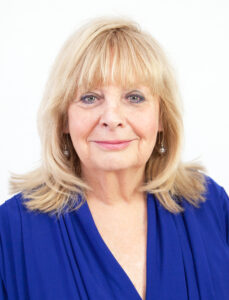 1895 by 2478 pixels
2MB
Susan Sommers
Founder of Power Source For Women, coach, and mentor.
PODCASTS
Magical Midlife with Lindsay de Swart, Walking Your Way to Health, Happiness, and Focus
Magical Midlife with Lindsay de Swart, Walking Your Way to Health, Happiness, and Focu
THE MAGIC OF WALKING
BY ANNE DAY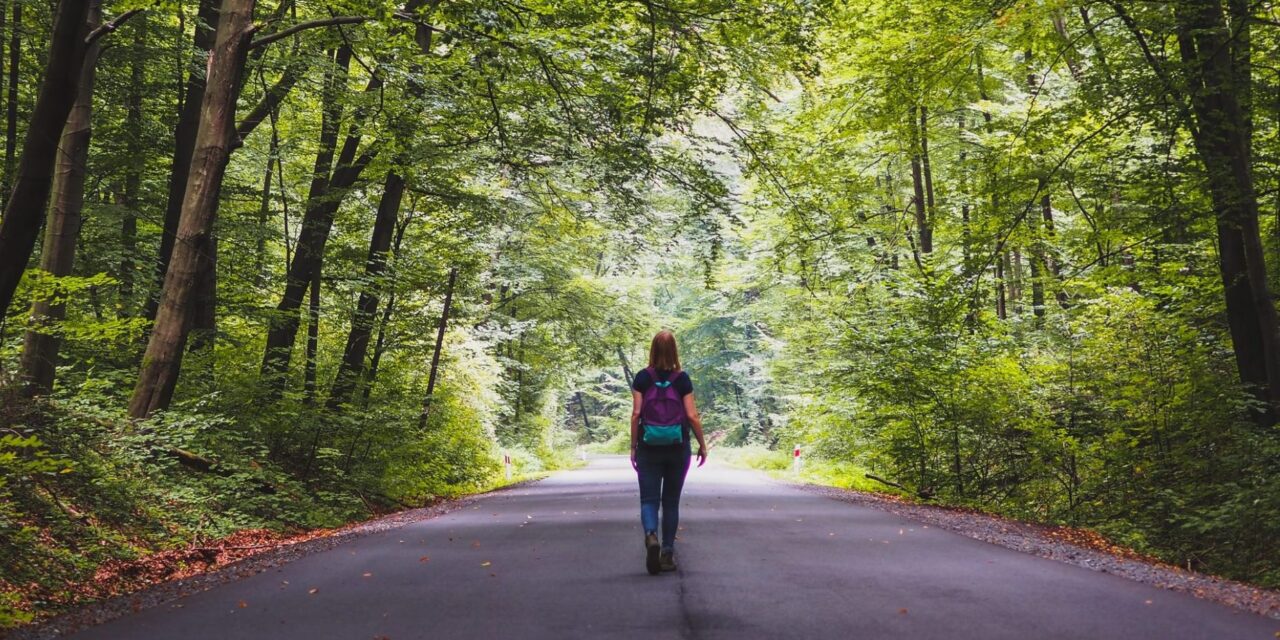 Is walking El Camino on your bucket list? It was for Susan Sommers, and during COVID she discovered that you can actually do the walk online.
Now whether this is in person or vitual, this is no walk for slouches. In total it's 778 kilometers and Sommers planned to walk 15,000 steps a day. She started in June, 2020 and finished in October, 2020. Impressive.
And even more impressive is the fact that she completed this at age 75. Makes you feel like a couch potato doesn't it? Sommers actually started walking and taking part in races and marathons at 59 and has been leading groups since.
Based in Toronto she used her walking time to explore different parts of the city, taking photos as she went along. "I knew I was a walker, she shares, "but I learnt that I am a photographer too." She started to be more attentive to her surroundings and noticed more as she walked, getting more and more in tune with nature.
She also became more motivated as she read Sonia Choquette's book Walking Home: A Pilgrimage from Humbled to Healed. "I'd come home after my walk, and delve into the book to capture what it would be like to do the walk in person." As she e-travelled El Camino, she received postcards from the organizers to show her what she would have seen, depending on where she was on her journey.
The project also propelled her to write another book about walking. She already has two under her belt, and the focus of this book – The Magic of Walking: Your Guide to a Balanced, Purposeful Life is to provide useful information for walkers and inspire you to lace up your shoes and get going.
The book is jam-packed with tips, like did you know there are ten different types of walking? Sommers even includes how to go walking when you have a walker. Growing up with an older brother who had polio as a child, she's aware of the challenges facing people using a walker. She also provides lists and links to other walking groups, locations and the "equipment" you need as you set off.
Her advice for someone starting out is to find a walking group or at minimum a walking buddy as that way you get to socialize, motivate each other to walk further, and it becomes way more fun.
Much is written, including my own blogs, about how hard COVID has been on us, physically and mentally, but Sommers shows that you can turn things around and have something good come out of a tough situation.
"With the continued stress of the pandemic, walking is an ideal way for women to care for their health." Said Sommers. "I wrote this book to provide a variety of strategies and tools for all types of walking at every age and stage of life, for physical fitness, mental clarity and spiritual strength."
If any of you want to walk El Camino virtually, go to https://theconqueror.events and you will find other walks of interest too – the Grand Canyon or the Cabot Trail.
Sommers' book is available at Caversham Book Sellers and the e-book version is available through Amazon.com
ARTICLE BY ANNIE
Hello,
This summer definitely feels sweeter than ever. I had my first patio lunch last week and I could not stop smiling.
However, there is a tendency to treat summer like a "Permission to Let Go of Everything Time".  And that, my lovely friend, would be a really big missed opportunity.
By all means, get off the path, smell the roses, discover trails and read for hours in your chaise lounge.
But no need to throw all your good habits out the window.
Consistency of small habits makes a much bigger impact in the end.
Can you have cocktails on the dock while still drinking plenty of water?
Can you add movement every day regardless of where you are?
Can you eat mindfully while still treating yourself?
Yes, yes and yes.
Do not confuse slowing down with stopping.
Get rid of the all or nothing attitude. It will never serve you. Instead,  embrace slowing down, spending as much time outside as possible, hugging your loved ones and feeling that joy. 
Let's stay strong while slowing down….  Because mindset is a practice – not an absolute.
To your health,
Annie
xox
PS: Book reco! Grab a copy of The Magic of Walking by Susan Sommers. I loved that book for many reasons – Susan has completed 30+ races since she turned 59 no less! – but because it will inspire and give you all the tools to start your own walking journey.  It is definitely never too late.
For more information and media inquiries please contact:
Susan Sommers
416 303 4025
francefontanahart@gmail.com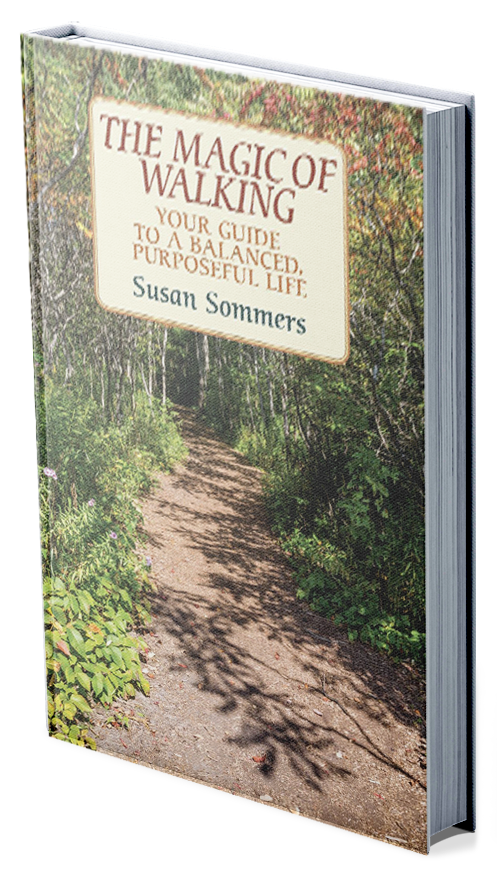 The Magic of Walking: Your Guide to a Balanced, Purposeful Life
This book is part memoir and part walking strategies and tools. Author Susan Sommers takes us on an incredible journey that started in June, 2020, when she decided to virtually walk the 778 kilometre el Camino de Santiago during the COVID-19 pandemic.
My book is now for sale online through Amazon internationally.